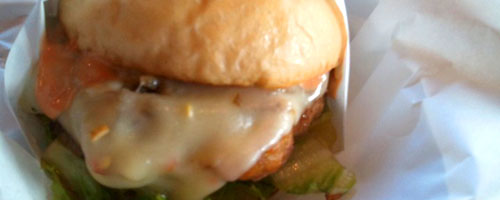 We've been told Rusty Roof serves the best burger in Spokane, something the northside burger joint proudly advertises with banners and signs. It's also a pretty tall claim, what with Sante's foie gras burger and all being out there.
I suppose calling something the best burger is a pretty subjective opinion, but Rusty Roof at least serves a very good burger. Not one worth traveling miles for, but the spot is worth the stop if you're up north and are feeling hungry for a burger.
In fact, the actual patty might be the worst part of the package. It's served slightly overcooked, to the point of being gray all the way through, and doesn't score highly on the juiciness level.
The buns, apparently from Petite Chat, are where it's at. These are the kind you could eat by themselves, nice and soft, without being chewy as often is the case. It's fresh bread and it makes a world of difference.
This "fresh" actually seems to be what makes the burger stand out. There's no limp iceberg with a slab of American cheese here and thank the heavens for that. In that sense the burgers at Rusty Roof seems a bit more upscale than even the better fast-food places in town, like D. Lish's. And the food here isn't fast, which probably is a good sign. Expect a bit of a wait for your burger.
Other than that the fries are good, and the veggie burgers are simply Gardenburgers, not homemade patties. The latter is definitely a negative.
Overall Rusty Roof is an excellent burger shop. I'm not sure it's the best burger in town, and Cougar Country is better if you were to expand your search a bit. Check Rusty Roof out if in the area though.