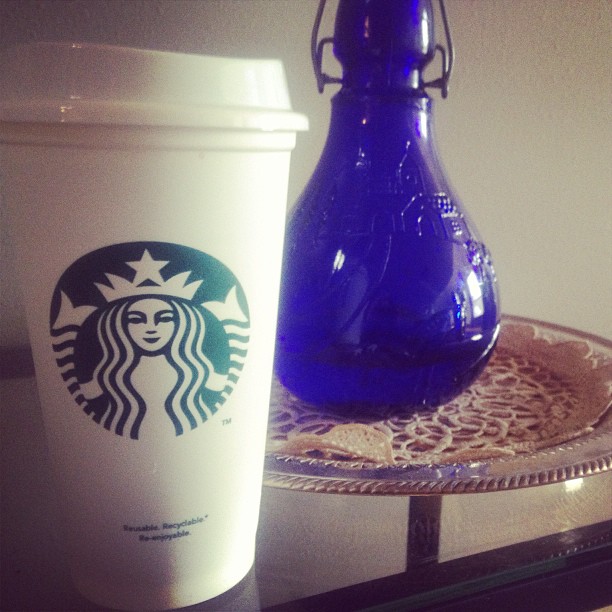 "It's as good as the KeepCup," the barista smirked, "and cheaper too. Only a dollar."
He was talking, of course, about Starbucks's new $1 cups. And yes, they are indeed cheaper than the KeepCup. Frankly, though, I consider the KeepCup to be the best choice for portable coffee as far as my needs go; others at Team SpoCOOL's offices prefer the Klean Kanteen, which probably is the best choice, technically speaking.
We took the bait, though, and hit up a Starbucks to try this new tumbler. The price certainly is right, and pretty much anything is better than a paper cup.
First thing to note: When asked about the cup, the barista's reaction was one of confusion. It was hard to blame her, mind you, as we saw no advertisements for it, even though it hit the market fairly recently. (Plenty of pimpage for caramel, vanilla, 24 oz macchiatos though.)
After giving it some thought, something clicked, and she informed us we could get the cup for a buck with the purchase of a drink. Fair enough.
The quality? Not bad, as far as a one dollar cup goes. You will still need a sleeve if you order something like an americano -- whatever material used here does little to insulate the heat. (Mind you, and I wouldn't put money down on this, but I seem to recall those sleeves being biodegradable. Take that for what it's worth.)
It took some work getting the lid on, but it felt secure after it clicked. Finally, the cup is dishwasher safe, and thus laziness secure, though Starbucks will also clean it for you before use.
How does it stack up against the KeepCup, then? The KeepCup doesn't do a great job at insulating heat either, but it really doesn't need a sleeve. The lid comes on a lot easier. Plus, it doesn't look like a Starbucks cup. You can mix and match component colors with it, which is all kinds of fun.
I'd spend the extra few bucks on the KeepCup, although the Starbucks cup kinda pays for itself, with a ten cent discount applied for each coffee bought. From Starbucks. So yeah, I'm not sure how good of a deal that really is.
Compare it to the Klean Kanteen and there is no competition. The Klean Kanteen is better in every way.
Still. This is a good move by Starbucks, as long as its customers care enough to move away from paper cups. They should, and for a buck... That's as cheap as it gets.
I'd still run up to Revel 77 and grab a KeepCup, myself, or pick up a Klean Kanteen from... somewhere... They're both better, and I'm not sure anyone really wants to run around with a cup bearing a large Starbucks logo.