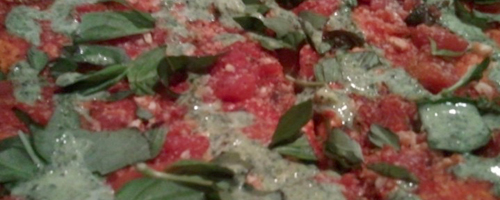 Ferrante's is one of those places easily forgotten about with all the Flying Goats and South Perries taking over the world. This is too bad, as the spot really does hold its own, and should be considered one of the better pizza places in town, at least if you like to venture over to the "old world" varities.
With a host of radio commercials and media attention to their new deep dish pizzas, Ferrante's seems like it's ready to fight for its position. The new pies definitely are interesting and different from most anything else in town, though if they're up your alley or not might be up for questioning. If anything I'd compare them to pizza al taglio -- Italian street pizza. They're square and deep, and the "Classico" is served with a minimal dusting of cheese and a nice pesto sauce drizzled over the tomatoes. This is definitely a fresh tasting pie.
I'm not sure if we loved the crust; it's thick and light, almost porous, which I suppose is exactly what it's supposed to be. Personally I'm just not sure if it was something for us to fawn over, but you might love it. You should at least try it.
We're more about their thin crust pizzas which really are quite excellent. The crust has a nice bite to it, crisp on the outside and more soft on the inside. It's a bit different from Flying Goat and South Perry, and I suspect Ferrante's uses a different type of oven, not to mention dough-recipe.
There's just the right amount of cheese on the pie, meaning not too much. Toppings always have a nice flavor to them, be it meats or vegetables. A great pie, in other words.
There's also a fairly generous gelato bar there, and who's to argue with that?
Ferrante's is pretty awesome, a spot that should be highly prioritized in your pizza rotation. We highly recommend it.